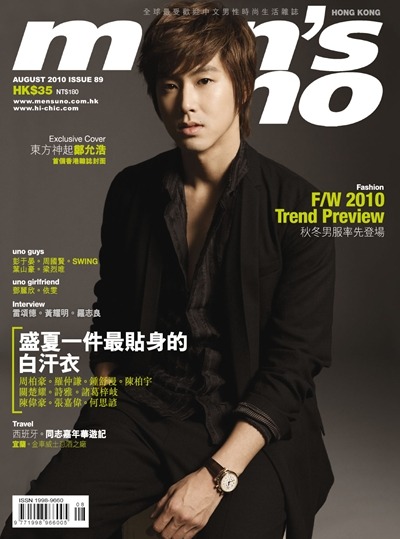 U-Know Yunho becomes men's magazine 'men's uno' cover for August issue.
Last August U-Know Yunho was selected as cover model in second issue of 'men's uno' published in Hong Kong, along with it, there was also the latest interview about charm appeal of U-Know Yunho including some photoshoot pictures. Regarding this issue, the Asian fans' reaction was high.
'men's uno' is Asia's leading men magazine having wide issue area such as Hong Kong, China, Taiwan, Singapore, and Malaysia. Asia's top actors namely Takeshi Kaneshiro, Jay Chou, Lee Byung Hyun, and many others had ever featured on the magazine's cover, thus the chosen of U-Know Yunho is once again proven the popularity of him in entire Asia.
The photoshoots was taken during U-Know Yunho's last visit to Hong Kong in mid-May. When the photoshoot was being held in Hong Kong, there were hundreds of fans flocking the studio. As well when the magazine was finally issued, there was flood of phonecalls from all over Asia. The high interest from public was rumored to be greater than ever thus suprising all the magazine staffs.
In addition, U-Know Yunho is expected to grace another cover shoot for 'men's uno' October issue published in Taiwan in coming early October, shaking the Taiwan fans with joy.
Meanwhile, on September 8th U-Know Yunho will start his musical performance for musical 'Goong' whose tickets had been sold out and on the following September 21st, he will contribute in 'SMTOWN LIVE 10 WORLD TOUR IN SEOUL' held in Seoul Olympic Stadium.
source: Newsen
trans: sharingyoochun.net+C3jj